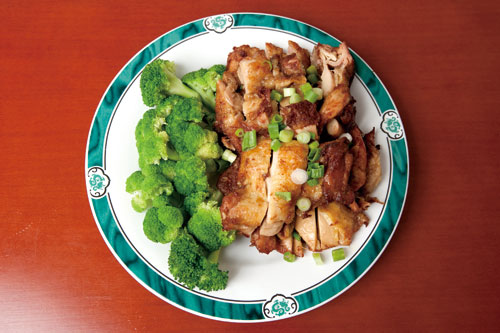 For centuries, take-out restaurants have survived mainly because they provide convenience to those in the surrounding area. But, today a greater number of restaurants overall have started to focus more on value, meaning that they are looking to providing tasty food at a relatively cheaper price. Chinese take-outs have suffered by becoming labeled as being "cheap and ordinary fare." Golden Star Chinese Restaurant, though, has managed to separate itself from other take-out restaurants by going through great lengths to establish itself as being not only affordable but also tasty and innovative.
Nestled in a plaza in the quiet town of South Bound Brook, New Jersey, Golden Star Chinese Restaurant looks like just about any other little take-out eateries that can be found in the area. However, the similarities stop there as the offerings at the restaurant range much further and are bolder in taste than one would expect, making Golden Star a hidden gem of the local culinary scene.
Golden Star Chinese Restaurant offers a versatile menu with a large number of menu items, including Americanized Chinese classics. These Chinese delights include entrées, such as Sesame Chicken, General Tso's Chicken and Broccoli Chicken, and also appetizers like crab meat Rangoon, spring roll, beef sticker, dumplings and beef dumplings, for example.
Americans' insatiable appetite for chicken has shown clearly in the popularity of chicken dishes in numerous restaurants. The lightly battered, cornstarch coated, and deeply fried General Tso's Chicken, sesame studded Sesame Chicken, and broccoli decorated Broccoli Chicken are understandably some of the customers' favorites at Golden Star.
What makes these dishes tasty and special is the homemade sauce, which may sound a bit cliché; however the sauce truly makes a big difference. Golden Star's sauce is a made a bit lighter in order to cater to customers' requirements. The chef has come up with the innovative idea of infusing the soup base with vegetables which is perfect for health conscious diners.
"We use beans, celery, ginger and many other ingredients to create the sauce. It is made without using any MSG, and also includes some fresh fruit juices and a dash of honey to enhance the flavor," owner David's wife, Ming Yang explains.
Yang's efforts to bringing healthy offerings are embodied in each detail, from the initial goods procurement, to the ingredients check, and also the strict cooking methods. Their dedication to healthy offerings is evident through their insistence on using only the highest quality ingredients possible, such as antibiotic-free IPP beef, chicken, and fresh seasonal vegetables.
"Despite the high costs, we never use any canned food, and cook for our customers the way we cook for our children at home," says Yang.
Yang's observance of her customers' changing habits, lifestyles, and tastes has resulted in a steady stream of return customers. The kitchen has emerged with a sense of vigor, eagerly promoting the numerous "healthier" choices on Golden Star's diet menu. Everything is cooked without salt or oil, and sautéed in a Chinese style—making use of chopped garlic and oyster sauce to flavor the vegetables.
The Yang's have also added some ethnic flavors to the extensive menu, and have experimented with Thai flavors creating dishes like Pad Thai, Thai Chicken w. Basil, Thai Red Curry Chicken & Shrimp, and Pineapple Shrimp Fried Rice.
Featuring a large portion of fresh herbs and spices, such as cilantro, curry, coconut milk, lemongrass, Thai basil and chilies, Thai cuisine has differentiated itself from other cuisines through its various ingredients and ways of preparing food. Pad Thai, as a national dish of Thailand, is one of the more popular menu items at Golden Star. Their version is a combination of stir-fried rice noodles, eggs, which is garnished with bean sprouts, shrimp, and red chili pepper as well as Thai fish sauce and fresh juice adding a kick of exotic Southeastern Asian flavor. The spiciness of this dish has been adjusted to better suit local tastes.
The Yang's seem to have a never-ending pool of inspiration from which to draw upon. This translates to a lot of changes to the menu and the addition of new, tasty offerings. They also draw inspiration from cook books, magazines, and TV cooking shows. Warm Thai Chicken is one of the exciting creations. The chicken is grilled crispy, and then drenched in honey and ginger sauce which gives the dish a subtle hint of sweetness.
Like grilled chicken? Different versions are also available, and you will definitely find your favorite among Golden Star's offerings which include Chinese style BBQ Chicken, Japanese style Teriyaki Chicken, and Cajun style Bourbon Chicken.
"Grilled chicken is healthier as the extra oil is filtered through grilling," reveals Yang.
With their perseverance and continued dedication to providing convenience and value to the surrounding area, Golden Star has managed to stay afloat throughout these years since it opened in 2000. Reflecting on the past ten plus years, Yang stressed that food, service, and sanitation are all indispensable for any restaurants. She also emphasized that they always keep customers' requirements in mind, and try to show their care for customers through taking care of all the little things such as offering friendly, attentive service and always keeping the floor and tables spotless.
Like many takeouts, Golden Star has an open kitchen, acting as a window to demonstrate its efficiency to customers. You will see this through how the chef prepares order in a quick manner without skipping any preparation steps. The chefs at Golden Star are like culinary generals on the battlefield, skilled at efficiently planning out meals in the shortest amount of time possible. You'll be astounded with their precision and how fast they prepare, mix, and match different ingredients. Like clockwork, everything is always prepared then plated in a splendid manner.
"We are very lucky to have an excellent team. Every member of Golden Star's team does their job to the best of their abilities, and I really appreciate that," says Yang, "I'd also like to take this opportunity to thank the customers for their support throughout these years."
Golden Star Chinese Restaurant
Location: 60 Main St., South Bound Brook, NJ 08880
Phone: 732-560-9297
Offers: Take-out, Eat-in
Cuisine: Americanized Chinese Cuisine, Thai cuisine
Signature Dishes: Sesame Chicken, General Tso's Chicken, Broccoli Chicken, Pad Thai, Thai Chicken w. Basil, Red Curry Chicken & Shrimp, Warm Thai Chicken, Pineapple Shrimp Fried Rice
Year of Establishment: 2000