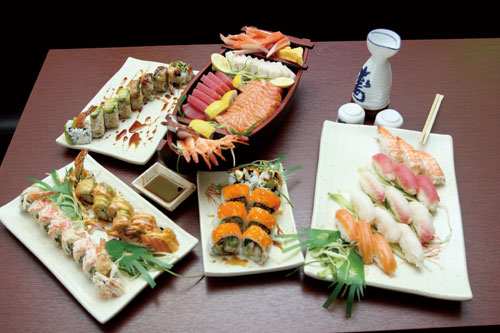 Lake Ontario has an amazing pull on travelers because of its fantastic scenery real and appeals to entrepreneurs who like to locate their businesses around the lake because of the high number of tourists who visit the area. Saga Sushi, located in East Burlington, is only a 5 minute drive away from Lake Ontario. Those looking to dine at this restaurant need only take a short drive over to Plains Road. You can't miss it as it is located near a Wal-Mart as well as a large mall.
When asked about how he chose the location, Qiwu Dong reveals that for him it was an easy choice. "I saw that this location, which is located in a strip mall, is easily accessible, has a lot of foot traffic around it, and of course has plenty of places to park."
Dong opened the restaurant in 2008, at a time when the economic downturn was hitting hard. However, while this may have caused other entrepreneurs to hesitate, Dong still pressed ahead knowing that customers would respond to good sushi. An uphill climb is tough, but Dong was able to power through the challenges.
Saga Sushi is one of the restaurants in the Akita Sushi chain. Like any other chain restaurant, each location shares the same values, management concepts, décor, and of course menu.
When it comes to décor, Dong has opted to follow a scheme of simplicity through making the interior fancy yet cozy. Within a space of 3000 square feet, the designer has artfully mixed a number of materials, colors and textures together into one winning combination. The sparkling lighting colors contrast against the creamy painted wall, which catches the eye of many customers when they step into the restaurant. The big kimono displayed in the restaurant helps build up the ambience by giving customers a more authentic Japanese experience. Accompanied with a bevy of delectable options from the kitchen, the restaurant is a place many consider perfect for enjoying great food after a long day.
"People always wear themselves out at work. So, we make sure to provide them with a great dining environment," says Dong.
Saga Sushi is not only a place for a respite from a busy life, but also a mecca of traditional Japanese food. Offering a stunning menu that features a wealth of traditional Japanese dishes, the restaurant includes selections from all over the Japanese culinary universe. You'll definitely be able to find your favorite, as the menu covers everything from shrimp tempura to sushi and special rolls.
Before diving into an entrée, you may want to enjoy the appetizers or miso soup as a warm up, followed with the melt-in-your-mouth sushi. Saga Sushi will take care of you with various sushi creations, while making sure to present them in an artful way that will cause you to stop for a moment to appreciate their beauty. Try their entrees, which offer a wealth of creative sushi combinations, including spicy tuna, salmon, eel, tuna, and yellowtail. Some are named after four seasons, with names like Sushi Spring. After dining at Saga Sushi customers won't need to stop somewhere else for a snack as the restaurant offers generous portions at reasonable prices.
"You are really going to love the entrees here as you will find there are more options than you expect," says Dong.
If those sushi combinations are not enough for you, you may want to sample the all-you-can-eat sushi which is categorized into sashimi, sushi, appetizers, maki, and tempura. Each item is delicately prepared and presented like a piece of edible art that will sure to whet your appetite. Moreover, they are priced reasonably at $13.99 for lunch and $18.99 for dinner through Monday to Thursday.
"If you like sushi, and you will like the rolls," Dong adds. The rolls are as mouthwatering as the sushi and sashimi, and they often reflect both the owner's stylized take on Japanese cuisine and his expertise on creating more innovations. Some signature dishes include Saga Roll, Soft Crab Roll, and Dragon Roll.
The name Saga Roll implies that it is the house specialty. Sporting cucumber, avocado and tempura shrimp inside, the Saga Roll comes sprinkled with tobiko, and dressed with the specially made sauce unique to the Akita restaurant of the chain.
"How delicious? You'll have to try it for yourself," Dong says. "I'm confident in the taste of our offerings because we get a lot of feedback which helps us further customize our dishes to what the people of East Burlington are looking for."
There are so many choices waiting for you to tryout, including the healthy low carb options, such as Veggies Salmon Wrap, Veggies Ika Wrap, and Veggies Cucumber Wrap. They are all made of fresh produce and freshly harvested fish, and cooked in a healthy way—with little oil or salt.
The menu goes far beyond sushi by featuring a large number of cooked items, such as Don (rice), Udon noodles, teriyaki and teppanyaki. Saga Sushi's beverages are also just as impressive as food. The liquor licensed restaurant offers a wide variety of red and white wines as well as exotic imported Japanese beers.
Saga's menu changes with the season. As it is summer in Canada the restaurant currently offers the Snow Mountain Roll, a layered tower of cucumber, avocado and salmon that is topped with mayonnaise. The sweet hint of mayonnaise makes it a perfect refreshing summer treat. The Chocolate Banana and beef rib are two other inspiring creations.
Being a chain restaurant, brand image is very important and Dong and his employees work hard to always being customers what they are expecting. Dong works more than 12 hours a day, making sure that everything is up to standard. You may find him making sushi, greeting the table of customers, or even helping take orders if you happen to stop by.
"It was a bit hard in the beginning but I just continued to plug away. I've always been focused on making things work" says Dong.
Saga Sushi

Location: 2011 Plains Rd. East Burlington, ON L7R 0A6

Phone: 905-633-9988

Offers: Dine-in, Take-out, Sushi

Cuisine: Japanese Cuisine

Signature Dishes: Veggies Salmon Wrap, Veggies Ika Wrap, Veggies Cucumber Wrap, Saga Roll, Dragon Roll, Soft Crab Roll, Snow Mountain Roll

Year of Establishment: 2008