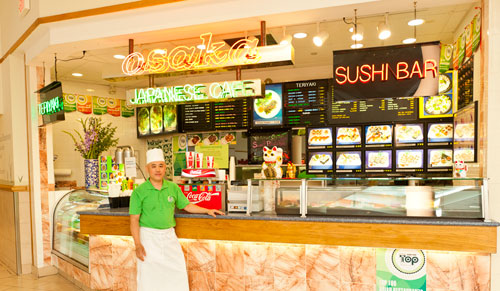 At the end of last century, many Chinese restaurateurs began to open buffet instead of dine-in restaurants. However, Mr. Weng did not follow the trend. He and his relatives opened a cafe in Hamilton mall in 1996. "I don't think opening a buffet restaurant is a good idea. That's too much waste and difficult to keep the food fresh," says Mr. Weng. Business in the early years was tough. But he did not give up, even though quite a few restaurateurs invited him to work as a chef. After all the years of hardship, Mr. Weng and his staff have built a strong bond between the customers. Now all his efforts have been paid off. Almost all the people living in the area have tried the tasty food at Osaka Japanese Cafe and many of them are regulars here.
"A decent location and good luck are certainly important to success, but what counts the most is the way you treat your business. Quality is always the top priority," says Mr. Weng. That is the secret to his success. The freshness of ingredients is certainly the most important factor in the maintenance of food quality. He has assigned a particular staff member to take charge of quality inspection to guarantee that the ingredients are fresh. But even with fresh ingredients, the chefs need to be good at their work in order to produce delicious dishes. Mr. Weng and the other chef possess vast experience in their field and are experts at using quality ingredients to create superb dishes. Osaka Japanese Café's signature dishes are Sushi and Chicken Teriyaki, which is cooked differently than it is at other restaurants. The secret is the chicken has been pickled in a special sauce for two hours in advance. All the dishes are low in oil and salt, and nutritious. The cooking skills of Mr. Weng have become so well-known that a local newspaper came for a report several years ago. Besides this, there are special dishes offered each day. The staff also often offers little presents to those vacationing in the area and who stop by Osaka, such as Japanese ice cream, cakes, candies and tea. What's more, the menu prices are quite reasonable.
Innovation is also an important part for a restaurant. Mr. Weng knows this and often goes to the library to learn more about the new popular Japanese dishes. When he comes back, he cooks the dishes according to the information provided in the books or journals, and eagerly gives the patrons a taste for free. This is a brilliant idea, which enables him to frequently roll out new dishes.
Not only is Mr. Weng a first-rank chef, but he is also a considerate boss, who treats the staff like family. At the moment he is considering raising the staffs' wages. Mr. Weng's fairness and fun cheerful personality are some other reasons why all the staff like working at Osaka. They serve the customers attentively and work hard everyday to provide excellent service. Patrons like to come and chat with the staffs in this relaxing place. Some patrons have been dining at the restaurant since they were kids.
Mr. Weng is also considering opening a branch in another shopping mall. The flavor and quality will be maintained by offering the same delicious sauce and fresh ingredients on every dish. The new cafe will join Osaka Japanese Café as another dining destination in town that offers authentic flavor and attentive service.
Osaka Japanese Cafe
Location: 4403 Black Horse Pike, Mays Landing, NJ 08330
Phone: 609-646-3577
Offers: Dine in, Take out
Cuisine: Japanese cuisine
Signature Dishes: Teriyaki, Sushi, Chicken Bowl
Capacity: 200
Year of Establishment: 1996