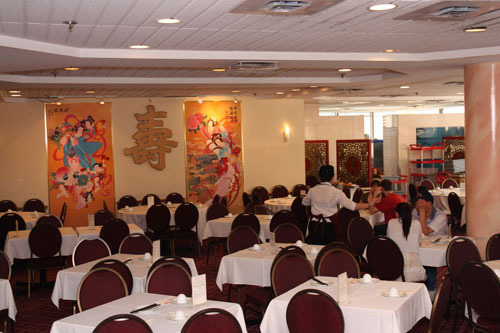 Located in Montreal Chinatown, La Maison Kam Fung Restaurant has been a local fixture for over 30 years. It was a family run business for generations and is now run by Zhuowu Kwan who entered the business in 1994. He later relocated the restaurant to the present location in Chinatown in 2002, turning it into a local standout.
La Maison Kam Fung Restaurant has received rave accolades and media coverage, in part because of its savory dim sum offerings. Every day, Kam Fung opens its door to locals and travelers alike, providing them with a one of a kind dim sum brunch experience. The dim sum served at this traditional Chinese restaurant is bountiful, including fried and steamed delights such as Cha Shui Baau, Cheong Fan (rice noodle rolls), Siu Mai, Fung Zao (Phoenix claws), Shrimp Dumplings, Lotus Leaf Rice, and congee to name a few. Accompanied with tea, such as jasmine or chrysanthemum tea, dim sum is a truly tasty and healthy treat.
This is just tip of the iceberg; the menu also features a bevy of Szechuan, Canton, and Hong Kong dishes. These dishes feature a wide range of ingredients including fresh fish, chicken, beef, pork, duck, abalone, and shark fin. Vegetarian dishes are another one of the restaurant's strong points. Peking Duck, Vegetable Casserole, and Lamb Brisket Casserole are some of the more popular dishes on the menu.
A bit different from other restaurants, La Maison Kam Fung is designed to draw the attention of Montrealers by introducing traditional Chinese style flavor. These Chinese characteristics, such as the huge laminated posters with Chinese mythical characters and the Chinese artwork visible throughout the restaurant help create a relaxing vibe.
Covering a large space of 6000 square feet, the restaurant is perfect for intimate meals and large group gatherings, such as weddings, a feast to celebrate the birth of a child, and birthdays. Remember to make a reservation in advance though as there are many days when the restaurant gets packed.
The busiest day of the week at the restaurant is Sunday when diners flock to the restaurant, trying their favorite dim sum dishes. On that day, a large team of 30 staff stand by to handle the orders, refilling the tea on each table and working their hardest to ensure good service.
Most people in Montreal will agree that La Maison Kam Fung is one of the best restaurants in town. The past 30 years have witnessed it growing into a time-honored brand, mainly because Kwan has acquired the know-how with which to involve himself in the community, and deliver his food and management concepts to a larger group of people.
Kwan immigrated to Canada at a young age and worked as a food wholesaler and supplier for 18 years. Later, he became a restaurant owner when he took over the business in 1994. Being an immigrant from China, Kwan knows that it is not easy to start a business without the respect and support of the local community.
Customer support is very important to me because it spells the difference between success and failure," Kwan says.
Some restaurateurs trying to run a business in a foreign country are faced with a slew of problems, such as discrimination, cultural barriers, and poor brand recognition. After years of hard work, Kwan has managed to engage the community through catering, donating to local charities, and also sponsoring events throughout the city.
"We seldom advertised or offered discounts, instead, gaining word-of-mouth recognition and solid reputation through donating food to needy people. We are glad that we are able to make a contribution to the community," Kwan says.
Catering has proven to be an effective way to broaden the scope of the restaurant's business and also attract more customers. Word of mouth has made La Maison Kam Fung Restaurant a popular caterer throughout metro Montreal. Kwan is known for taking the time to select unique event venues such as stylish banquet rooms, golf courses, and community centers. This approach allows the restaurant's chefs to cater to a wide range of customer needs while also giving them an opportunity to showcase their culinary skills. These catering events have helped improve business as many of La Maison's customers find out about the restaurant by attending one of the many events it caters.
"These events are attended by a lot of potential customers. Guests of one event may come to us later when they want to hold a function of their own," Kwan explains.
Another key to keeping a longstanding relationship with the customers according to Kwan is to respect them and always be open to changing things based on customer feedback. Kwan often chats with customers, asking how the meal is, and whether there is anything that can be improved. In addition, the staff checks online reviews in an effort to stay current with customer preferences. This attention to customer needs has paid off and now some of the more popular dishes are those that have been slightly modified based on customer feedback.
Despite an economic slowdown along with rising food costs and shrinking profits, Kwan still manages to see things in a positive light. "One benefit of the recent economic issues has been that now, most people now choose to dine in Chinese restaurants because of their good value," Kwan says. "We always make sure that every customer is satisfied with their meal."
Message from the Owner
At La Maison Kam Fung Restaurant, we have been working to establish a presence in the community while also striving to help local foodies better understand Chinese cuisine.
La Maison Kam Fung Restaurant
Location: 1111 St-Urbain Unit M5, Montreal, QC H2Z 1Y6, Canada
Phone: 514-878-2888
Offers: Dine-in, Take-out
Cuisine: Cantonese Cuisine, Dim Sum, Szechuan Cuisine
Signature Dishes: Peking Duck, Lobster with Ginger and Scallion, Salt & Pepper Seafood Plate, Wor-Shui-Guy, Dried Scallop with Garlic
Year of Establishment: 1980