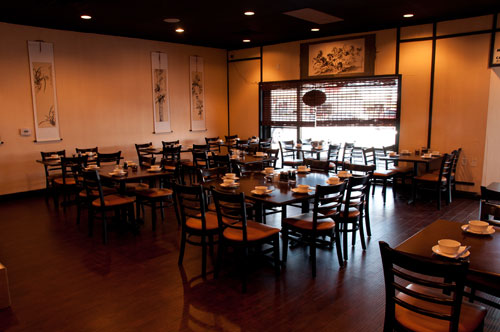 Many students at University of Nevada, Las Vegas may have come across Jugoo Chinese Restaurant, a little yet stylish eatery just off campus that features authentic Chinese food.
Still a student at UNLV, owner Terry Zhang opened this restaurant in April of this year, with the hope of bringing authentic Szechuan food to the community.
"Fine restaurants featuring real Szechuan food have always been hard to find in this area," explains Terry, "I want people to know more about what real Szechuan cuisine is, and also bring a taste of home to Chinese students such as myself."
Before opening up Jugoo, Terry had to scout the local market, take extensive surveys, and then use the data to pin down what direction he wanted his restaurant to go in. His research indicated that his potential customers were looking for a restaurant that was not only ethnic but also kept their dishes authentic. Thus, he decided to create a casual dining eatery with an emphasis on Sichuan flavors, both in its food and décor.
Eschewing the loud colors and Old World decorations, Terry elected to put a contemporary twist on the usual traditional décor seen in most Chinese restaurants. To do so, he chose to add a touch of Sichuan flavor by embellishing the interior with hand-crafted artwork, some Chinese-inspired paintings, and also Sichuan opera face masks. Feeling energized by the invigorating vibe flowing throughout the restaurant, diners might want to sip a bowl of herbal tea before the dishes they ordered are served.
Food is the main focus at Jugoo. To many people, Sichuan cuisine equals spiciness and tongue numbness. Thus for Americans who crave light, sweet and sour flavors, it is not easy for them to get accustomed to authentic Sichuan dishes. Despite that, Terry still insists on offering authentic Sichuan cuisine, as he believes that the locals will like it as long as they can learn more about Sichuan culinary culture and be open to the unique taste possibilities possible in Sichuan cuisine.
The large selection of menu items showcases the quintessential dishes of the Sichuan culinary realm. Szechwan Style Spicy Chicken, Szechwan Stir-fried Lamp, Hot-pot Fish Fillet, Double Cooked Pork Belly, Ma Po Tofu are just a few of the more popular dishes.
"The customers come here for these authentic dishes. We always make sure to have what they are looking for, and that I hope they could appreciate the unique culture in Sichuan while enjoying their food," explains Terry.
Sichuan food is not for the faint of heart. The packed bowls of chili may scare some away, but for the adventurous diners they help heighten the experience. Going on a culinary journey at Jugoo might entail starting a meal with an assortment of cold dishes—chewy strips of dried beef with chili; shreds of sliced brisket and tripe; smoked chicken legs; and crunchy, slippery slivers of pig's ear slicked with red oil.
Then explore further by digging into some entrees, such as Ma Po Tofu and Szechuan Style Spicy Chicken. Terry strongly recommends Ma Po Tofu, one of the more popular dishes in Sichuan cuisine. To prepare the dish, the chef carefully chooses soft tofu and drenches the tofu cubes with red oil, Sichuan peppercorn powder, and oil. Then he cooks it with minced meat. The result is a concoction of chili-drenched bean curd and minced meat, which never fails to leave diners satisfied. The subtle hint of spiciness is felt, while it does not overpower the taste and maintains its tender texture.
Szechuan Style Spicy Chicken is an enormous dish packed with chopped stir-fried chicken and mildly blackened dried peppers which are tossed in to enhance the fragrance. The spicy kick of Jugoo's version is tamed to meet the dietary restrictions and not overwhelm the taste.
Craving for something less spicy? Classic Kung Pao Chicken is a nice try. Although Kung Pao Chicken is ubiquitous with its presence on the menu of nearly every Chinese restaurant, Jugoo's chef approaches it in a classic and real Sichuan style. Rather than heaps of chicken meat and vegetables, Jugoo channels Sichuan elements by adding Sichuan peppercorns, peanuts and fresh and unroasted cashew nuts.
The menu explains the chef has skillfully represented what is served in his homeland. A bite of any dish is all it takes to realize how much skill it took to make it.
The chef, once studied cooking at the Culinary Institute in Sichuan, and has worked in some of the finer restaurants in New York, San Francisco, and Las Vegas. His expertise and decades of experience has enabled him to turn ordinary dishes into extraordinary pieces of tasty artwork. His annual trip to China also brings up more exciting ideas for the menu.
Aside from the extensive menu items, some seasonal dishes are made available every two weeks. New cold dishes, such as Cold Noodles, and Tofu with Shallot, are added to the menu in the summer months for those looking to cool down while dining. Steamed and stewed dishes as well as hot pot are also available to suit the different needs of customers.
Terry also added General Tso's Chicken and Sweet and Sour Chicken among other dishes to also cater to those diners looking to balance their meals with Americanized Chinese favorites.
Targeting a larger audience does not mean taking pork belly and kidney off the menu. Terry finds that Chinese and American customers don't often develop a fondness for Sichuan cuisine overnight. But the customers will be a big fan of Sichuan cuisine after they try the dishes at Jugoo as the staff will spend time teaching them how to enjoy the authentic dishes, such as hotpot, and the herbal tea which is a part of Sichuan culinary culture.
"It is not an easy task, but I'll keep trying to show them the best of Sichuan cuisine has to offer," says Terry.
Opening a restaurant was not a part of Terry's original career plan. As a student majoring in restaurant management, he spent a lot of time practicing in upscale restaurants and hotels. But, inspired by his classmates and teachers, Terry decided to go ahead and take a shot at running a restaurant. He has done a lot of work to make sure Jugoo is successful. One creative method he used was to train the staff by offering incentives, e.g., giving out extra benefits such as insurance to the staff and providing them a stake in the restaurant. The strategy has worked as everyone works hard to keep customers satisfied.
Running a restaurant is more tiring than many may think. When Terry's classmates return home or go on vacations during summer break, he has to continue to run the restaurant and figure out what further improvements can be made. Rolling up his sleeves to join workers in the kitchen, Terry isn't afraid to put in the extra effort required to make Jugoo successful.
Jugoo Chinese Restaurant
Location: 4747 S Maryland Pkwy. Las Vegas, NV 89119
Phone: 702-433-0452
Offers: Dine-in, Take-out
Cuisine: Authentic Chinese cuisine
Signature Dishes: Hot-pot Fish Fillet, Szechwan Style Spicy Chicken, Szechwan Stir-fried Lamp, Double Cooked Pork Belly, Ma Po Tofu…
Year of Establishment: 2011