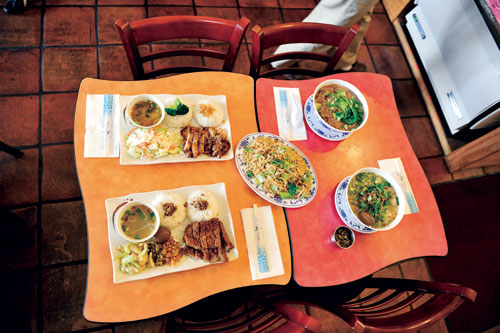 Eric Sun graduated from college with a bachelor's degree in business administration three years ago. Fresh out of school, he already had an idea about how to begin his career. And even more impressively, he immediately acted upon it by opening Formosa Bento House, a restaurant that offers foodies the chance to try authentic dishes from Taiwan—the homeland of his parents Andy Sun and Tammy Lu.
Born in America, Eric would head over to Taiwan during his summer breaks, and in the process discovered the breathtaking dining scene and its amazing diversity. Gradually, he developed a fondness for Taiwan fare, especially the tasty treats available at the night market.
His dream to bring Taiwanese cuisine to the US eventually came true when he found out that foodies were looking for something familiar, yet quite a bit different than what they were used to eating at Chinese restaurants. Eric planned and created his business by focusing on developing a restaurant that offers delicious yet nutritious food at an affordable price.
"When Eric was in college, he dined out often, and was worried about what he was eating in terms of whether it was harmful to his body. Another problem was that the price was often a bit too high for the value," says Tammy, Eric's mother.
This may explain why he decided to bring the concept of home cooking to the people of Redwood City via Formosa Bento House. "At our home, we use fresh ingredients, and cook in a healthy way. For example, we never add MSG, and our dishes are lightly flavored without extra oil or salt," Tammy further explains.
Before opening the restaurant, Eric really didn't know what kind of restaurant the locals would like the most. So he scouted out the area, conducted surveys, and tested various ideas, finally deciding to offer bentos. Perfect for fans of Asian cuisine, bentos provide convenience and value to customers who are busy with their work but still want to try some ethnic flavors.
"We really didn't know where we could go and whether the customers would like it," Tammy says.
Taiwan Bento (or Bian Dang) is basically a type of street food commonly sold near bus stations and commercial areas with a high concentration of office workers or travelers on the go. The choices are almost endless, with an almost infinite amount of bento combinations available. Formosa's versions on the other hand aren't unlimited but rather focus on the more popular combinations. You can choose a main item, such as fried or grilled pork and chicken, or preserved pork. All items come with steamed rice, a small portion of pickled radish, ground pork, marinated egg, preserved mustard, Taiwanese style cabbage and traditional soup.
Sometimes small can be big, as many people discover when perusing Formosa's menu. Formosa's one page menu lists around 50 items, incorporating both Taiwan and Japanese bento boxes. Even without providing a ton of choices, the small restaurant does try to make each dish healthy and tasty. The chicken or pork is marinated with fruit juices which deliver a fruity kick, and enrich the dish with a multi-layered texture of taste without overwhelming taste buds.
"We never add any MSG or any baking soda, but instead try to retain the original taste and flavor—thereby not overburdening people with overly strong seasoning," Tammy explains.
Beef Noodle Soup, a quintessential Taiwanese favorite, is a highly-rated dish among the customers. This large bowl of fresh ramen-style noodles brims with chunks of soft, lean beef that is topped with baby bok choy and spinach. The beef is a little chewy and bouncy, just as authentic Taiwanese recipes call for. What makes this dish special is its fantastic soup which is made with beef bones, simmering for nearly 8 hours before being served. The soup base is deep and rich, bursting with flavor.
Each bite of the noodle with fried and grilled pork chop brings with it a bit of nostalgia for the restaurant's Taiwanese customers as it reminds them of the food available back in Taiwan. Formosa Bento House only uses fresh ingredients and promises a healthy dining experience.
Formosa has accumulated a large following by selling Taiwanese dishes instead of the usual Americanized Chinese fare. This cozy little bento house has finally found itself with a legion of fans that not only includes Chinese, but also some Americans with a craving for ethnic flavors.
The rave online reviews help sum up how people feel about the restaurant. One review reads, "You do not have to be Taiwanese to love their home-style cooking. This is indeed a hidden gem of Redwood City and the San Francisco Bay Area."
Real Taiwan food really adds another exciting dimension to Redwood City's vibrant dining scene. The restaurant reopened in April, 2009, after a closure of three months for an overhaul and a switch in format from buffet to bento box. Ardent fans got wind of the reopening and couldn't wait to shoulder their way through the crowds on the first day, testing out the bentos and happily chatting with Tammy.
Taiwanese cuisine has been influenced greatly by Japan which ruled it for approximately 50 years. One way in which it has been influenced is the slight similarity between Japanese and Taiwanese bentos. At first glance, Japanese bento boxes look like Taiwan style Bian Dangs, but, after closer inspection it becomes quite obvious that the contents are different. With Japanese cooking, the emphasis is on seafood and miso soup. Aiming to provide a wider range of bentos, Formosa has incorporated elements from both cuisines in the preparation of its bentos.
As a little eatery, its marketing is centered on word of mouth which builds on the customers' feelings about food, service, and ambiance. Owners Andy and Tammy are a cheerful and kind-hearted couple who are always ready to welcome customers with a big smile on their faces. Being a fixture in the restaurant, they chat with customers and cater to their every need, almost as if each customer was family. Everyone who has ever stopped by Formosa remembers Tammy because of her cheerful demeanor and sincere smile.
Without any flattering decorations, the unpretentious restaurant has only five tables. Quite inviting—the soft hued color themes, bright lighting, and spotlessly floor helps relax customers as soon as they walk in the door.
Location: 2660 Broadway St. Redwood City, CA 94063
Phone: 650-568-9789
Offers: Dine-in, Take-out
Cuisine: Taiwan Cuisine & Japanese Cuisine
Signature Dishes: Beef Noodle Soup, Grilled/Fried Chicken Bento, Grilled/Fried Pork Chops
Year of Establishment: 2008