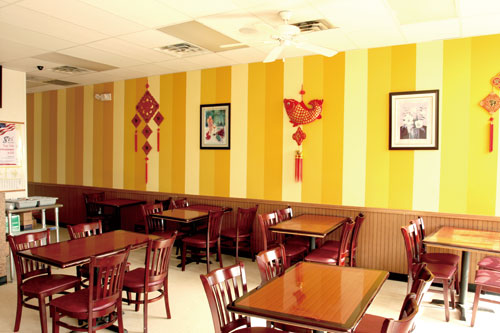 Yutian and Eugene Wang opened China Wok in 2008, choosing to locate the restaurant in a small shopping center in suburban Winterville, North Carolina because he found that people were looking to enjoy quality Chinese takeout.
From the outside, China Wok looks like a typical Chinese take-out restaurant. But, once you step inside, you will find the interior is neat, spotless, and attractive. Without many frills, it is decorated with beautiful framed paintings and Chinese knots to create a contemporary Chinese atmosphere.
China Wok offers over 100 items on its menu. Some of the dishes that are popular with China Wok's regulars include Chow Mein, Fried Rice, Chop Suey, Lo Mein, Egg Foo Young, Moo Shu, and Mixed Vegetables as well as a wide array of chicken, beef, and pork dishes. For those who crave a healthy balance to their meals, rest assured because China Wok offers selections such as Steamed Vegetables with Chicken (or shrimp), which contains a low amount of oil and salt.
Chicken with Broccoli and General Tso's Chicken, which are China Wok's signature dishes, are sure to satisfy your taste buds. Chicken with Broccoli is a nutritionally-balanced dish that is made with succulent slices of white chicken and fresh broccoli. General Tso's Chicken, on the other hand is arguably the most popular Americanized Chinese dish out there. China Wok's version features chicken stir-fried with steamed broccoli. The main feature of the entrée is the clever combination of homemade brown sauce mixed with vinegar, sugar, and various spices.
The homemade sauces delivered in dollops atop each entrée are brimming with flavor. It is a truism that in Chinese cuisine—a sauce, gravy, or simple glaze can make or break a good meal. Nearly all Chinese restaurants offer similar Chinese fare but the difference in taste between dishes from different restaurants is because of each restaurant's "trump card"—homemade sauce that only the owner knows how to make.
Crafting a homemade sauce that can take a dish to the next level calls for plenty of experience and a feel for what customers in the area are looking for. There is nothing worse than a lumpy sauce that tastes too much like flour or cornstarch. Drawing upon old recipes, the sauces at China Wok have been slightly modified to reduce sugar and salt content. The chef has also changed the original recipe around to make the dish lighter in response to customer feedback.
As diners become more sophisticated and selective in their dining preferences, they seek out healthier food options. To satisfy this growing demand, China Wok mainly uses lean pork and beef while also making sure to include a certain amount of vegetables in its dishes. In addition, all dishes are prepared with little oil, salt, and sugar. They are now in the process of teaming up with Healthy Dining Finder, a corporation that provides accurate nutrition information and suggestions through a comprehensive analysis of the nutrition contents of restaurant dishes.
"We strive to provide customers with lots of healthy alternatives. To do so, we offer some house specials on a monthly basis," says Wang.
One key element to keeping a stream of customers is the freshness of the produce used in China Wok's dishes. To insure quality and freshness, Wang insists on ordering ingredients on a regular basis and checking to ensure everything is fresh on delivery.
Aside from the fresh and tasty food, expectations for take-out eateries aren't sky high but people do expect quick service. Mr. Wang is aware of this and has focused on working to improve efficiency since the first day the restaurant opened. Employees at China Wok follow Mr. Wang's instructions and offer the most efficient service possible. A take-out order, on average, is finished within 10 minutes.
As a family style restaurant, it is much easier to manage the restaurant. The management style at China Wok calls for everyone to be assigned with specific tasks. This way everyone on the team is accountable for one area of its operations, allowing for better performance all around.
China Wok's marketing is accomplished through word of mouth. According to Wang, they rarely advertise, instead, the restaurant's loyal customers help introduce new customers on their own through telling their friends and families about the tasty food and speedy service. This approach has worked out well and China Wok now has a large legion of loyal fans. Now the customers could go to their website: www.chinawoknc.com for some coupons or order from the online menu even without a menu on hand.
Besides the great food, a big reason why the customers come back is the exceptional service. Always smiling and attentive, the staff makes sure to brighten each customer's day even if it is just through taking an order over the phone. Wang's family members have gone to great lengths to serve the customers with their sincerity. "A smile still really goes a long way even if there isn't that much face to face interaction," Wang says.
Service is important, just as the sanitary condition in the restaurant. People now pay attention to their health by not just watching what is in their food but also observing their dining environment. At China Wok, the kitchen is open, so customers can see how the chefs prepare their orders and of course how clean the kitchen is. Just imagine if the kitchen is dirty and messy, how could you ensure that customers will have a healthy and pleasant meal? China Wok's open kitchen has helped dispel the doubts of customers and is one reason why it continues to win new customers daily.
Before opening China Wok, Yutian and Eugene Wang worked at various restaurants as a part-time job when they were still in high schools. This experience took his career in a different direction that he had never considered before. Reflecting on the past years, Wang explains, "Working in this industry is a bit tiring, but I like it. Nothing beats seeing the smiles on the faces of customers after they take a bite of one of your signature dishes."
China Wok
Location: 711 Thomas Langston Rd. Winterville, NC 28590
Phone: 252-756-3311
Offers: Take-out, Dine-in, Delivery
Cuisine: Americanized Chinese Cuisine
Signature Dishes: General Tso's Chicken, Chicken/Beef with Broccoli
Year of Establishment: 2008
Website: www.chinawoknc.com