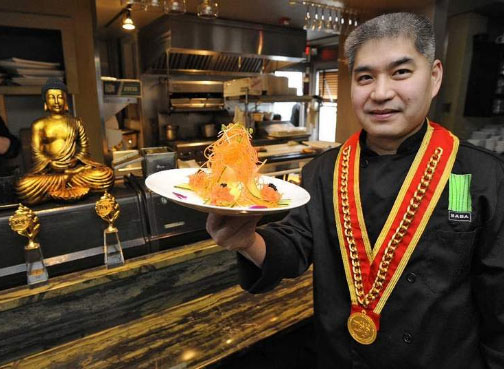 Wilson Wang, master chef/owner of Baba Sushi, 309 Park Ave., Worcester, holds a dish called tuna chips. Baba Sushi came in ninth among "Top 10 Overall Excellence, Asian Restaurants" in a national competition organized by the Chinese Restaurant News and the Chinese Restaurant Foundation. (JOHN FERRARONE).
Baba Sushi, 309 Park Ave., Worcester, has been named one of the "Top 100 Restaurants in the U.S."
Wilson Wang, owner/master chef of Baba Sushi, picked up the award earlier this month at the annual Top 100 Chinese Restaurant Awards Show and Conference held at the Santa Clara Convention, Santa Clara, Calif.
Restaurateurs from more than 300 Chinese and Asian eateries attended the festivities, jointly organized by Chinese Restaurant News and the Chinese Restaurant Foundation.
Baba Sushi also was named "Top 10 Overall Excellence, Asian Restaurants," one of the most coveted awards presented at the event. Baba Sushi placed ninth.
Wang said he and his restaurant staff were surprised when they first heard about the award news. "We got a phone call and that was it," Wang said.
Well, there's a little more to the story.
Baba Sushi had to meet criteria set by an awards committee. A "secret" reporter was sent out to judge candidates, who had no clue that the diner would be in their restaurants.
Overall criteria guidelines:
Food: The critical factors were consistency, quality, taste and variety.
Décor and atmosphere: Based on the restaurant type: family-style, upscale, buffet, take-out, special theme and chains. Service: Customer satisfaction, friendliness and efficiency were some of the important factors.
Cleanliness and presentation: the dining room, kitchen and restrooms were evaluated. Value: Restaurants were recognized for outstanding offerings under optimum costs. At the awards event, Wang said chefs talked about food nonstop and shared "food experiments." Wang also ate a lot of pizza.
"Fantastic," he said, explaining the Italian-style pizzas featured seafood, such as squid, mahi-mahi, etc.
World-renowned Chinese master chefs were special guests, and the fine art of Chinese culinary decoration graced the banquet table, according to Wang, who photographed many of the artistic pieces. Wang's personal favorite is a chick pastry dessert by Master Pastry Chef TongGang Wang. "It's so unique," said Wang about the pastry. The medal and trophies Wang brought home are displayed at Baba Sushi.
Wang opened Baba Sushi in 2007. He has won numerous culinary competitions, including Worcester's Best Chef awards five years in a row (2007 to 2011).
The chef will compete in the 2012 Worcester's Best Chef Competition Jan. 29 in Mechanics Hall in Worcester. Visit www.WorcesterBestChef.com for information about the event. Tickets can be purchased online, or at the door the day of the competition.
For more info about the "Top 100 Chinese Restaurants," visit Click on winners for info on Wang.
Chinese Restaurant News was founded in 1995 to inform the Chinese-speaking owners and operators of 47,000 Chinese restaurants in the U.S. of industry news and trends.
The real big news about Baba Sushi is that Wang will open another restaurant in the fall. Wang is in the process of signing on the dotted line.
I think Baba diners will be pleasantly surprised when they hear where the restaurant will be located. Vinh Ly of Baba Sushi will manage the new restaurant, and he will help create the menu. He formerly operated Apsara, an Asian restaurant in Worcester.
I can't reveal where the new restaurant will be, but I know Wang is super friendly with diners so some of you probably already have heard the news.
Baba Sushi has plenty to celebrate this Chinese New Year 2012, Year of the Dragon.
Happy New Year and congrats to everyone at Baba!
"Casino Confidential" is the name of the Mystery Dinner Theatre that will be presented by the Worcester Jewish Community Center at 6:30 p.m. Feb. 11 in Mechanics Hall in Worcester.
Word is that the setting is a "spy convention at a casino." Local celebrities will participate in the "mystery."
Tickets: $85 per person. Call (508) 756-7109, ext. 252, or visit www.worcesterjcc.org. Proceeds will benefit Worcester Jewish Community Center Youth Scholarship.
Silent auction begins at 5:30 p.m.; dinner and show, 6:30 p.m. There will be passed hors d'oeuvres and a cash bar.
Struck Catering of Worcester will prepare the dinner menu.
Tidbit: Michelle Bohigian of Something Sweet by Michelle in Worcester made an "incredible chocolate layer cake" at a recent dessert tasting.
A delicious evening, all around.
Isador's Organics, 261 Main St., Oxford, will host a Chili Cook-off in conjunction with the Webster Dudley Business Alliance.
The cook-off will take place from 1 to 4 p.m. Feb. 12 at Isador's Organics. The event will benefit the Hand Fruit Program, which brings organic fruit to local schools that might not otherwise be able to afford it.
Individuals and restaurants are invited to bring their pre-made entry in any category of chili including spicy, mild, vegetarian, white, etc. Call (508) 987-1211 to sign up. There is no entry fee.
The public is invited to the event, and donations for tastings will be accepted at the door. Guests will be able to vote for their favorite in the people's choice awards.
News from Tomasso Trattoria, 154 Turnpike Road, Southboro:
The bar menu at the restaurant now includes nightly comfort food specials such as pulled pork and Tomasso-style fried chicken.
A new Assaggio di Tomasso menu offers a choice of either three courses for $30, or four courses, $35. Available Monday through Thursday. If you opt for it, all members in your party must order from the menu.
Valentine's Day menu at Tomasso's, $50 per person, plus tax and gratuity. Reservations now accepted.
Lidio's Restaurant & Lounge, 1045 Central St., Leominster, put this message on a recent email:
"Lidio's would like to thank the many snow plowers who keep our roads clear! As a special thanks we would like to offer a 20% discount on the snow plower's entrees during snowstorms, just park your truck in our lot and mention the discount. Because without you we couldn't stay open, or get home safe, so Thanks!"
Tasha and Marcus DiNardo own Lidio's.
Dream Dinners of Milford and Framingham will hold Menu Tasting Open Houses from 5:30 to 7 p.m. Feb. 1.
The free event will feature six dinners that will be sampled. The menu includes Mandarin Chicken, Old Fashioned Meatloaf and Krispy Kid- Friendly Cod With Dipping Sauce.
Locations of Dream Dinners are 206 E. Main St., Milford, (508) 473-1888, and 847 Edgell Road, Framingham, (508) 877-3336. Visit www.dreamdinners.com.
Dream Dinners is the original meal assembly service. At a session, guests can assemble pre-selected meals in about an hour, which they then take to freeze.
If you have a tidbit for this column, call (508) 868-5282. Send email to bhoulefood@gmail.com.